Code by Fab
The 23rd of May 2006, He judged! - (see below for the news stories)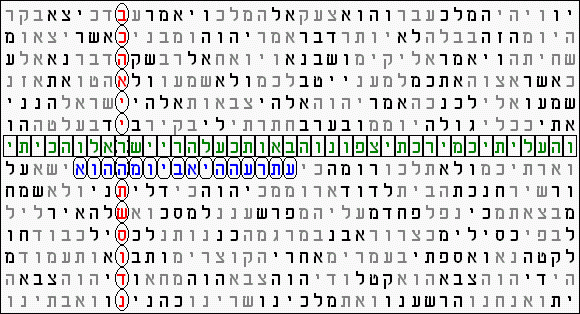 News stories from the 23rd of May 2006
Olmert: Bush and I are in full agreement on how to confront Iran

By Aluf Benn and Shmuel Rosner, Haaretz Correspondent, Haaretz Service and Agencies

WASHINGTON - There is full agreement between Israel and the U.S. on how to confront the Iranian nuclear issue, Prime Minister Ehud Olmert told Israeli journalists early Wednesday, hours after his White House meeting with U.S. President George W. Bush. (Click here for analysis by Aluf Benn)

"We extensively discussed the Iranian issue," Olmert said. "There is a full understanding between the president and myself on how to deal with this matter." Olmert said he was "very satisfied" with the discussion he held with Bush on Iran.
http://archivesone.150m.com/page283.html
Strategy Meetings
Though the immediate conflict between Israel and Hezbollah was touched off by a Hezbollah cross-border raid on July 12 that captured two Israeli soldiers, the longer-term U.S.-Israeli strategy can be traced back to the May 23, 2006, meetings between Olmert and Bush in Washington.
At those meetings, Olmert discussed with Bush Israel's plans for revising its timetable for setting final border arrangements with the Palestinians, putting those plans on the back burner while moving the Iranian nuclear program to the front burner.
In effect, Olmert informed Bush that 2006 would be the year for stopping Iran's progress toward a nuclear bomb and 2007 would be the year for redrawing Israel's final borders. That schedule fit well with Bush's priorities, which may require some dramatic foreign policy success before the November congressional elections.
At a joint press conference with Bush on May 23, Olmert said "this is a moment of truth" for addressing Iran's alleged ambitions to build a nuclear bomb.
"The Iranian threat is not only a threat to Israel, it is a threat to the stability of the Middle East and the entire world," Olmert said. "The international community cannot tolerate a situation where a regime with a radical ideology and a long tradition of irresponsible conduct becomes a nuclear weapons state."
Olmert also said he was prepared to give the Palestinians some time to accept Israel's conditions for renewed negotiations on West Bank borders, but - if Palestinian officials didn't comply - Israel was prepared to act unilaterally.
The prime minister said Israel would "remove most of the [West Bank] settlements which are not part of the major Israeli population centers in Judea and Samaria. The settlements within the population centers would remain under Israeli control and become part of the state of Israel, as part of the final status agreement."
In other words, Israel would annex some of the most desirable parts of the West Bank regardless of Palestinian objections. That meant the Israelis would need to soften up Hamas, the Islamic militants who won the last Palestinian elections, and their supporters in the Islamic world - especially Hezbollah, Syria and Iran.
In a speech to a joint session of Congress, Olmert added that the possibility of Iran building a nuclear weapon was "an existential threat" to Israel, meaning that Israel believed its very existence was in danger.
Nuclear Face-Off
Even before the May 23 meetings, Bush was eyeing a confrontation with Iran as part of his revised strategy for remaking the Middle East. Bush was staring down Iran's hard-line President Mahmoud Ahmadinejad over demands Iran back off its nuclear research.
By spring 2006, Bush was reportedly weighing military options for bombing Iran's nuclear facilities. But the President encountered resistance from senior levels of the U.S. military, which feared the consequences, including the harm that might come to more than 130,000 U.S. troops bogged down in neighboring Iraq.
There was also alarm among U.S. generals over the White House resistance to removing tactical nuclear weapons as an option against Iran.
As investigative reporter Seymour Hersh wrote in The New Yorker, a number of senior U.S. officers were troubled by administration war planners who believed "bunker-busting" tactical nuclear weapons, known as B61-11s, were the only way to destroy Iran's nuclear facilities buried deep underground.
"Every other option, in the view of the nuclear weaponeers, would leave a gap," a former senior intelligence official told Hersh. "'Decisive' is the key word of the Air Force's planning. It's a tough decision. But we made it in Japan."
This former official said the White House refused to remove the nuclear option from the plans despite objections from the Joint Chiefs of Staff. "Whenever anybody tries to get it out, they're shouted down," the ex-official said. [New Yorker, April 17, 2006]
By late April, however, the Joint Chiefs finally got the White House to agree that using nuclear weapons to destroy Iran's uranium-enrichment plant at Natanz, less than 200 miles south of Tehran, was politically unacceptable, Hersh reported.
"Bush and Cheney were dead serious about the nuclear planning," one former senior intelligence official said.
But - even without the nuclear option - senior military officials still worried about a massive bombing campaign against Iran. Hersh wrote:
"Inside the Pentagon, senior commanders have increasingly challenged the President's plans, according to active-duty and retired officers and officials. The generals and admirals have told the Administration that the bombing campaign will probably not succeed in destroying Iran's nuclear program. They have also warned that an attack could lead to serious economic, political, and military consequences for the United States."
Hersh quoted a retired four-star general as saying, "The system is starting to sense the end of the road, and they don't want to be condemned by history. They want to be able to say, 'We stood up.' " [New Yorker, July 10, 2006 ]
The most immediate concern of U.S. military leaders was that air strikes against Iran could prompt retaliation against American troops in Iraq. U.S. military trainers would be especially vulnerable since they work within Iraqi military and police units dominated by Shiites who are sympathetic to Iran.
Iran also could respond to a bombing campaign by cutting off oil supplies, sending world oil prices soaring and throwing the world economy into chaos.
May. 23, 2006 22:41 - Iran test-fires long-range missile
May 23 (Bloomberg) -- All seven people infected with bird flu in a cluster of Indonesian cases can be linked to other patients, according to disease trackers investigating possible human-to-human transmission of the H5N1 virus.